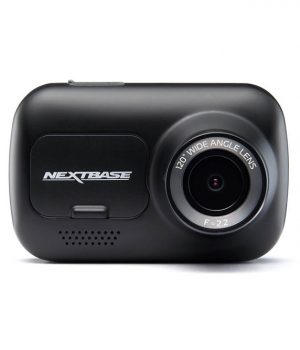 This high definition Nextbase 112 dash cam is part of the Series 2 range and features high specification video quality and lots of easy features.

Recording quality is excellent, and the upgraded in-plane switching (IPS) screen plays back your journey in excellent quality.
All Series 2 dash cams are compatible with the Nextbase polarising filter lens too, which reduces glare from direct sunlight for even better clarity.
The 122 is 35% smaller than previous models, so it maximises windscreen space and minimises distraction and obstruction while you're on the road.
Features like Intelligent Parking Mode and the Click & Go mount make the Nextbase 122 easy to set up, use, and position.
What's the spec like?
High definition recording
The high definition recording gets you the best view of your driving experience with 720p detail at 30 frames-per second. This means that you will be able to capture even the small details from registration plates to road signs, providing an accurate portrayal for those who want a more detailed account or as evidence should anything happen while on their journey

High Definition: Get better visibility and capturing every last element through our wide angle lens which captures much greater range than traditional dashcams, thus creating sharper images making it easier identifying any object having movement involved into its surroundings
120° wide viewing angle
You'll be able to see more of your journey with the 120° wide-angle lens. Your peripherals will also be captured in just as much detail, which means it's perfect for motorway driving and wide lanes.
High precision G Sensor
The G sensor will kick in during a collision to safeguard your footage. Any impact with your vehicle will automatically store the relevant footage in an undeletable file that can't be recorded over.
2" high-resolution screen
Play footage back immediately and check your recordings on the 2" high-res screen. The award-winning IPS screen is a significant upgrade.
Intelligent Parking Mode
The Nextbase 122 is never sleeping, even when your car is parked. The dash cam will instantly start recording any bumps or physical movements around the car while you're away from it.
Click & Go mount
This dash cam uses magnetic connectors for easy 'click & go' removal. When you get back in the car, just clip the camera back into place and start recording.
What's the 122 like?
The Nextbase 122 has been a hit with reviewers, who think it does exactly what it needs to do for a very reasonable price.
The 122 is easy to set up and operate and the HD specs and key features are smart and functional. Users can get on with their drive, knowing their journey is being
recorded by one of the best value dash cams on the market.

Some might think it's a bit too basic, but there are plenty of other cameras in the Series 2 range that offer fancier bells and whistles.
Should I buy a Nextbase 122 dash cam?
With a fair retail price and bags of features, the Nextbase 122 is a great first dash cam. Or even second or third!
It has a lower spec than other Series 2 cameras, but it's still got that essential 720p recording and a lot to offer for a very economical price.