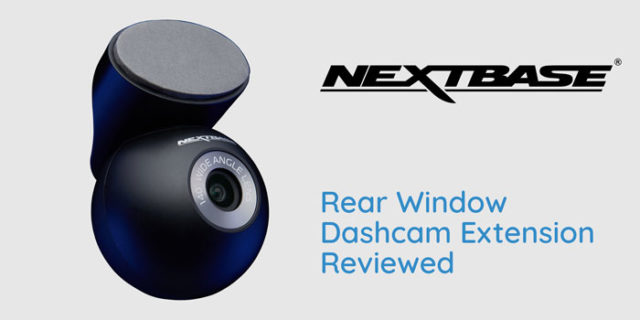 This rear window dash cam is compatible with Nextbase Series 2 models 322GW, 422GW, and 522GW, giving the driver a clear view of the road in front and behind their vehicle. Rear footage can be recorded in 1080p or 720p, depending on the resolution chosen for the front-facing camera. Your rear camera will benefit from all the same features your front camera boasts, including Parking Mode, a sensitive G Sensor, and Bluetooth and Wi-Fi connection. The 6-metre cable connecting both cameras is long enough to extend to the rear of even large vehicles and 4x4s. Both cameras will record simultaneously, capturing all the details you need in high definition.
Compatible with all Nextbase Series 2 cameras
This is compatible with Nextbase's most advanced range of dash cams. Your front and rear cameras link with a 6m long cable, which can be fitted underneath the car's roof lining to keep things looking neat and compact.
Film in HD with both cameras simultaneously
Depending on the model you already use, recording resolution can be:
Front 1080p, rear 1080p.
Front 1440p, rear 720p.
Front 1080p, rear 720p.
140-degree wide-angle lens
Nextbase front-facing models already feature a wide-angle lens. Now you can record your rear view in just as much detail, capturing pavements on both sides of the road and multiple motorway lanes.
Adjustable magnetic mount
Your Nextbase rear window camera is mounted with neodymium magnets, so you can flexibly move and adjust your viewing angle.
What's the Nextbase compatible rear camera like?
The Nextbase Series 2 range is a hit with customers and tech reviewers, and this compatible camera is no different. It's just as easy to install and use as your front facing camera, and reliable and trustworthy too. Some users think night vision is less clear than it could be, and registration plates aren't as visible at speed. Overall though, they're impressed by its ease of use, and reassured by the extra cover it provides.

Should I buy a Nextbase compatible rear dash cam?
Recording from the back window gives you extra peace of mind, helping you to accurately record any tailgating, rear collisions, dangerous lane changes on the motorway, or vehicles approaching from behind at speed.

This provides a full picture of any incidents that happen to you – or near you – on the road.