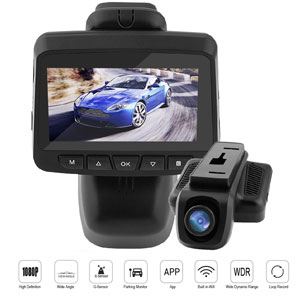 Which is the best budget Dashboard Camera?
We heard you, all you want to know is, which is the best dash cam based on actual owners feedback?
Well, wait no longer we've put together a list below of the top 5 dashboard cameras based on actual customer ratings on Amazon.
We've added images of all the units and a nice table for you to see exactly what the best cameras are, based on user feedback with.
One thing to note is that the pricing is at the time of writing and they could have gone up, more than likely they will have gone down. Either way, make sure you check them out to make sure you know the real time price.
| Rating | Image | Product | Avg Rating | Buy Now |
| --- | --- | --- | --- | --- |
| | | | | |
| | | PEBA D60 | | |
| | | APEMAN Dual Lens Dash Cam | | |
| | | | | |
| | | | | |
This camera has all of the features you would look for in a car dashcam. With an amazing rating of 4.9 out of 5 on Amazon, it seems to be a great camera that lots of people are buying and they're not being disappointed.

For a small cost, you will get a newly designed, powerful dash cam. With a lifetime after-sales support service to boot.

The Nextbase 122 Dash cam comes with 720p HD resolution it can record details very clearly and with its wide dynamic viewing range, you will not miss any detail on the road.
It will automatically overwrite the oldest footage with the newest video clips, making sure that it will continuously keep recording and with the G-sensor it will lock situations like a collision so you don't lose the evidence.
The 2 Inch High Resolution LCD display has a 120-degree wide angle lens, it reduces blind spots and gives you a wide visual angle making it easier to view the recording after.
Loop recording means unless you have a bump there is no need to take the SD card out of the camera to make more space.
Camera no. 2 - PEBA D60 Dash Cam 1296P
The PEBA Dashcam has a slightly higher resolution than the number 1 camera. It promises to give you a better quality of video recording due to the fact it records in 2304x1296P resolution or known as Super HD recording. Providing you with a sharp, clean, detailed, stable video.
An average user rating of 5 stars from every person who has ever bought the camera it could be a steal at the price of £49.99. And is probably worth spending the extra £3 on top of the above camera.
The 1296P camera is equipped with the Ambarella A7LA50 processor and OV4689 image sensor, helping make this dash cam the perfect witness in any event.
Benefitting from the in-built sensor, if you have an accident or a collision it will automatically lock that section of film to make sure it is never lost. And won't be erased using the loop recording function.
Loop Recording means you don't have to keep adding new memory cards into the device. It'll just keep recording over the SD card you put in. A maximum Micro SD card size of 32GB means that it's not got the biggest of storage capabilities.
Night Vision is a must in a country like the UK where a vast amount of time is spent driving in the hours of darkness. The PEBA D60 won't let you down and comes with it in-built.
Camera no. 3 - APEMAN Dual Lens Dash Cam
This may be a little more than other dashboard cameras on our list but it packs a great punch.
It comes with 1080p recording which is pretty much a must have in a dashboard camera these days. However it is designed and developed through independent R&D, that has strict quality control producing a stunning camera for the money.
The camera has a recording angle of 170 degrees and its advanced starvis sensor, WDR technology and F1.8 large aperture, the dashcam captures the finest details even in low light conditions.
The 2-inch TFT screen allows real-time viewing and it will not distract your from driving.
The package includes a 32GB micro SD card and 1-year warranty.
Camera no. 4 - Crosstour In Car Dash Cam Mini CR700
The Crosstour CR700 has a vast amount of reviews in comparison the cameras above. It is the top of the line camera for the Crosstour brand and has everything you want in a car camera.
It has an average rating of 4.7 stars out of 5.
Again benefitting from SONY technology it comes equipped with a SONY 2M CMOS Sensor which helps the camera record in Full HD 1080P.
The camera lens is capable of recording 170 degrees, giving you even more coverage of the road than some of its competitors.
Loop Recording and the automation start and shutdown feature mean you'll never have to touch it. Unless of course you end up having an accident and you'll want to get the footage off of it. You will need to hardwire the camera into the car to be able to get this to work though so make sure you have someone on hand to help with fitting it for you.
Again, the G-Sensor technology will help you record accidents and can also pick up anyone hitting the car in a car park. If it detects motion the camera will lock the files of the recording and not allow it to record over it.
Camera no. 5 - Crosstour Mini In Car Dash Cam CR500
The next camera down is the Crosstour CR500. The sibling to the CR700 above. I think it shows how good these cameras must perform for the price if they can get two cameras into the top 5 rated dashcams on Amazon UK.
Again using SONY technology in the camera a SONY IMX323 Sensor to be exact, allowing it to record in Full HD 1080P. It can also capture 12 MP sharp photos that most dash cams can't do. 170 degree wide lens allows you to see 4 lanes of traffic on your recording. The 2.7" LCD screen can show you the video footage in quality and gives you a better visual experience.
Other than the sensor technology itself it is much the same in comparison to the CR700. I suppose the question to ask would be 'Should I pay for the better sensor or not?'
Conclusion
That brings us to the end of our round-up of the best dashboard cameras based on actual user reviews on Amazon UK. We've included links to the products so you can go check them out and purchase if you want to.
We think the above cameras are great little units and they all come in under the category of a 'budget dashboard camera'.
Leave us a comment below if you have enjoyed reading our run down, you've owned one of the units above or you just want to give a shout.