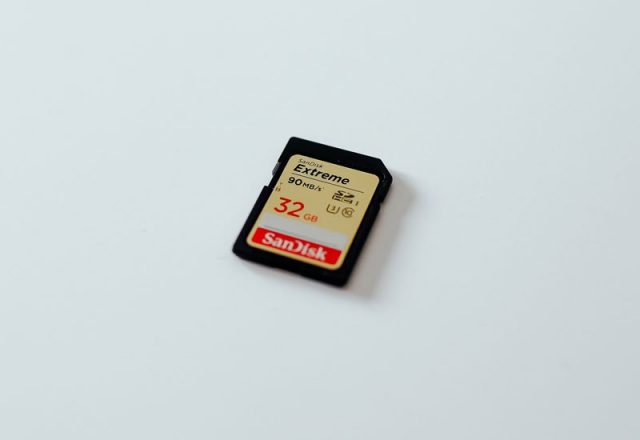 Choosing the right dashcam can be difficult, choosing the right micro SD card for the camera can be even tougher.
Nearly every dashboard camera you buy, whether a budget dashcam or a high end dash camera, the likelihood is that you need to purchase a micro SD card to go with it. The vast majority don't include them in the standard box.
When choosing the right MicroSD card for your dashboard camera there's a number of things you should look to consider.
Ideally you're looking for a card that can record on your camera for an entire day before needing to be deleted and written over by the video footage captured.
Another key thing to make sure is good enough is the read/write speed; the last thing you want is for the video footage to be corrupted due to the card not being able to write the data fast enough.
Most of the dashcams we've ever reviewed have had a maximum size of SD card they can take. This needs to be your main factor when deciding on the card.
Reliability, along with the maximum size your camera can take is the next most important thing. You don't want to be having to replace the card over and over again due to it not being of good enough quality.
A very important thing to look for is whether the card is designed for endurance; some cards will void the warranty if used in a monitoring device for long periods of time. Such as the Sandisk Endurance high endurance video monitoring microSD card.
So, with all that in mind; what are our top 6 Micro SD cards for your dashcam?
Below is our pick of the cards we would recommend along with a detailed description of why we think they're the best for you and your camera. If you don't like reading we've also given you a pro's and con's breakdown for each card to help you make up your mind.
It would have been wrong of us not to put this card as the first on the list. We think you need to make sure you have the right level of SD card in your dashcam to make sure you never end up in a situation where you need your video footage but the card has given up and you can't get access to the footage stored on it or even worse it never started recording in the first place.
Although the title sounds rather expensive these endurance cards are not that much more expensive than the more standard Micro SD cards. The main thing is that they come with a warranty and guarantee along with being specifically designed for monitoring and surveillance devices.
---
Conclusion:
Apart from the sizes being relatively small compared to others this is the card you should be looking at.
If you're looking for a bargain SD card this is it; the Mengmi cards start at around £4 and they have a full range on offer right through to a 256gb capacity.
The cards can write at 45Mbits per second which is enough for your average dashcam.
A 10 year warranty means you'll be covered for the most part of the life you'd want from an SD card, it has also been rigorously tested against the elements.
The support team claim to be available online 24 hours a day which is great if you do come across any issues when you are trying to use your card.
Unfortunately, this card can't support recording video in 4K so if you do have the Nextbase 612GW then you need to be looking at a different card altogether.
---
Conclusion:
If you're looking for a card that is not used for 4K video footage and also offers great value for money with a really long warranty then this card is for you
Yes, we have yet another Sandisk on the list. The main reason for this is they just know how to make an SD card that's reliable and hard working.
Along with the endurance Micro SD card range this version come in a capacity range in a league of its own. Starting at 16GB right up to 400GB of space.
So if you do a lot of driving and you need a good sized card to capture the road ahead for hours on end then these are the cards for you.
With up to 100Mbits per second write and read its the perfect card for even the top of the range cameras on the market.
Along with the speed of transfer it also provides HS Speed Class U1 and Speed Class 10 for Full HD video recording/playback and a 10 year warranty to boot.
---
Conclusion:
If you're not worried about the endurance part of the card then this is the one to buy. It offers everything you could need from a MicroSD card.
Samsung are one of the biggest names in global electronics and their SD cards are known to be reliable. The great thing about this model is it also comes in a pro endurance version too so if you want to make sure it's designed for a dashboard camera then you can choose it over the standard Evo plus model.
This card provides the biggest storage capacity of all the other cards on our list and has a card available up to 512GB. Massive storage!
100Mb per second read speed and a 90Mb per second write speed mean this card means business. All depending on the device you put the card into of course.
The 512GB card provides enough memory to store up to 6 hours of 4K HD footage. So you could drive from Edinburgh to London and almost get the whole journey in glorious 4K video footage!
Samsung also claim the card can withstand up to 72 hours in seawater along with surviving extreme temperatures. You can rest assured when going through the airport X-ray machine too as the card is capable of withstanding the damage caused.
---
Conclusion:
Great name, great card. Along with the endurance range of cards these Samsung cards should provide you with everything you could want.
Kingston is a well known name in the computer memory space and have been in the industry for a long time. Although you won't get the same brand recognition as you do with the likes of Samsung you can rest assured that these are very good SD cards and will be reliable when in your device.
The cards are available up to 256Gb capacity so you can get the size you want.
The cards have been designed and built to withstand the elements and can withstand full submersion in water for 30 minutes and up to 1M depth. Made for video and so will be great for your dashboard camera.
---
Conclusion:
Relatively unknown brand of memory, but with a reputation in the industry for providing good quality products.
Integral memory are again a relative unknown in the electronics community but having used the cards in numerous dash cam reviews we've done and also in creating our videos we can honestly say they are a cracking purchase and will be great for your car.
Ranging from 32GB right up to 512GB capacities you can decide which size you need to have in your camera, dependant on the manufacturer of your dashcam of course.
Integral have sold over 50 million cards to date and seem to be flying. Up to 100Mb per second read speed and up to 90Mb per second write speed these cards will cope with all types of situations.
They provide a triple of 5 year goodies with each and every card too;
5 year warranty protection, 5 year free UK based support team and 5 year Data recovery service if the worst should happen!
---
Conclusion:
Relatively unknown brand of memory, but a great range fo available capacities and also the list fo 5 year support features means you'll unlikely have any major ongoing issues.
So, to recap;
The main thing to think about when it comes to your SD card is that you get the right level of reliability, the speed you need to make the most of the dashboard camera you own and that the data recorded does not get lost if there are any issues.
The cards we have listed above are all of a certain quality level that will perform for you and we're confident you can choose any of the micro SD cards and not be disappointed with any one of them. So enjoy and whichever you choose we hope you stay safe on the roads.