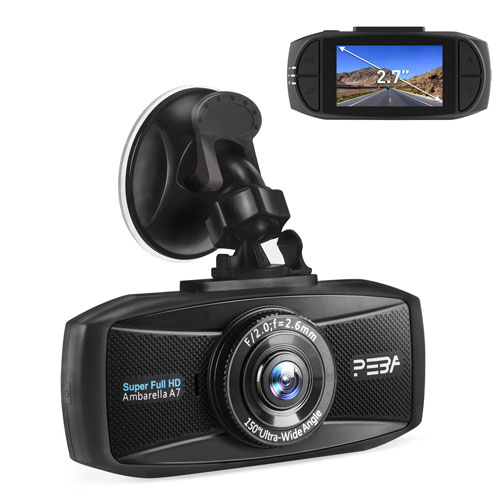 PEBA 1296P Super HD dash cam review
The PEBA Super HD dash cam is a refreshingly well-priced dam cam that is feature rich.
The PEBA packs a crisp 1296P High Dynamic Range camera with a 150-degree view, meaning you will always be able to see every detail on the road, day or night.
Where this camera stands out is in its ability to provide great value for money.
This site has a special offer on till the end of September, 2023. Don't out,
here's the link
So what's the spec like?
Super Night Vision
Although being very affordable, the PEBA super HD comes with a lot of high-end features. The camera comes with the ability to capture sharp video footage at night time, something many other dashcams at similar prices fail to do. Road signs, license plates or oncoming traffic, this dashcam will have no problem delivering the clearest images, allowing you to sit back and focus on having a safe driving journey.
Ultra-Wide View
It's so important to have a good field of view when using dashcams to capture every detail on the road. Lucky for you, the PEBA has you covered with an expanded 150-degree field of view to get full road coverage.
Gravity Sensor
Losing captured footage can be a nightmare. With this dashcam, a built-in gravity sensor cleverly detects sudden movement and will automatically lock video files to ensure they are safe.
Loop Recording
The built-in loop recording feature allows the oldest video files to be automatically overwritten in order to save the current file. Loop recording can be a useful feature if you are not concerned with storing hours of footage and only want to save the most eventful moments.
Parking Monitoring
Leaving your car unattended is inevitable. However, the PEBA aims to ensure that your car's safety is protected even when you aren't there. Parking Monitoring allows the dashcam to automatically turn on and start recording if it detects a vibration, even if your engine is off.
Should I buy the PEBA 1296P SUPER HD Dashboard Camera?
With the super night vision, ultra-wide view and parking monitoring, it is easy to why this camera has been getting great attention online recently.
In a competitive market, the PEBA 1296P stands its ground with an affordable price, high res camera and an extensive list of features. If you are looking to get the best value for your money, the PEBA 1296P may be what you're looking for.