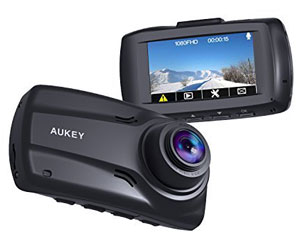 Aukey Dual Dash Camera Review
The Aukey Dual 1080p dash camera is currently one of the most popular cameras on the market featuring remarkable video quality with a wide 170-degree front view and 152 degree rear view to enable the capture of any car impact from any direction.
The camera is clear and sharp as to be able to pick out clear details such as number plates during the day and night making it convenient and an optimal camera to ensure easy dispute resolution as the camera footage will provide clear evidence.
With its superb temperature control, the camera lasts longer than the average dash cam with average battery life making it highly reliable. It's easy to access and simple layout makes this dash cam an undeniably well-manufactured product.
Most cameras are unable to store any footage without a Micro-SD so you will need to purchase one before you start setting up.
Aukey Dash Cam Main Features
Wide Field Of View
This allows for the coverage of almost all of the car's surroundings. It also gives you peace of mind as side collisions and rear collisions are most common and this camera has no issues capturing these.
Full 1080p HD Recording
Allows for clear images in the day and night as well as in-car audio giving you great video quality and evidence. Broader and brighter images allow for even clearer videos especially at night
Emergency And Loop Recording
Emergency recording allows for the capture of driving incidents and the protection of thee recordings while loop recording allows for the continuous recording while driving with no need to change SD cards or delete anything
Temperature Resistance
Its super-capacitor allows for greater resilience in more extreme climates and temperature resulting in a prolonged lifetime than the average camera.
Parking Mode
Cameras automatically records the person or vehicle ahead of the car.
Sticker Mounts
Allow for permanent stability of cameras for clear and focused footage. The use of this type of mount allows for quick and easy setup and maintenance.
Should I Buy The Aukey Dual Dash Camera
Being one of the only cameras on the market to be reasonably priced with a high resolution as well as its impressive field of view, this camera has made a buzz in the market and has easily become one of the best ones currently being sold .
With its inclusion of a rear camera and its automatic parking mode the Aukey Dual Dash Cam might be what you're looking for if your goal is to maximise your driving safety .