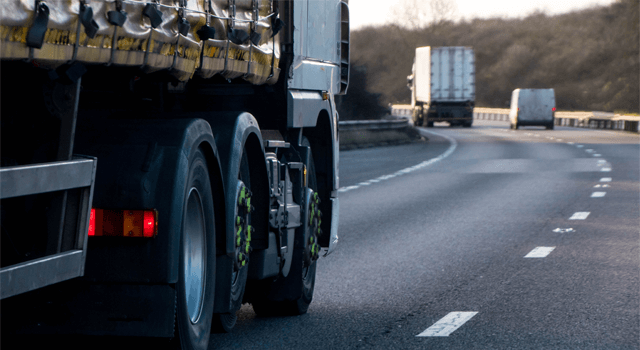 Top Reasons To Install Dash Cams For Commercial Vehicles
Are you a professional driver for a living? Or perhaps a manager in charge of a daily fleet of vans or trucks?
Whichever camp you belong to, safety and security will always be one of your top priorities.
More and more people than ever are adding dash-mounted cameras to both private and commercial vehicles. It's therefore no surprise, according to the AA, dashcam ownership has risen by around 150% over the last 4 years.
Without further ado, let's get started…
What's the difference between private and commercial vehicle dash cams?

This might surprise you, however there isn't a massive difference between car dash cams and those that can be fitted to vans and trucks.
This is great news because even if you're on a tight budget, there will definitely be something on the market that would be fit for purpose to add to your commercial vehicles.

That said, if you're driving for a living or looking after a fleet you might want to invest in heavy duty devices that have advanced features such as:
High quality HD recording to capture everything at a fantastic level of detail. This is particularly useful if you need to call upon the recordings as evidence in a court case.
GPS tracking which can help pinpoint your vehicle's exact location at the time of an incident.
Parking modes that will automatically detect if someone hits your vehicle while it's parked. They'll start recording upon collision, giving you a better chance of catching the perpetrators.
G-force sensors to ensure any footage captured during high impacts is never overwritten, even when your device's SD card fills up.
Do commercial vehicle dash cams help cut your fleet insurance costs?

Yes, in some circumstances you will find your renewals could go down if your fleet of vans or HGVs are fitted with dash cams.
Some insurers see it as a major positive when a dash cam is fitted to a commercial vehicle. The concept being if everything is filmed, driving will be done more responsibly and to a higher standard.

There's also another big reason some insurance companies will offer reduced premiums for dash cam usage; the footage can be used in court as evidence against fraudulent claims.
There are fraudsters out there who make their living staging accidents in a way that sets out to make it look like it's not their fault.
With these "crash for cash" scams on the rise, dash cam use is becoming more important than ever for professional drivers.

Tips for van dash cams
One of the best reasons to get a dash cam added to your van is for enhanced security. Often just seeing a dashcam could put off a would-be vandal or thief from tackling your vehicle.
If you have internal and external cameras, you could catch people in the act, should your van get broken into. If your van does get stolen, a camera with GPS tracking could help you locate it too.

Vans also generally don't have rear windows. This can make reversing tricky, even for the most experienced drivers.
Adding rear dash cams to compliment your front-facing cameras can be a great way to avoid those annoying, and sometimes very costly, parking dings.
Here's a great dashcam that would be suitable for most vans.
The new Nextbase 380GWX has both front and rear facing camera and is ideal for fleet and commercial vehicles.
Tips for truck dash cams
With most HGV drivers covering over 100,000 miles a year, it isn't a shock to learn that most of that trucking takes place on motorways.
You can get dashboard cameras that are super wide-angled, meaning they can cover multiple lanes. This makes them the perfect choice for trucks, where it's important to capture footage on larger, busier, roads.

Another thing to consider when it comes to lorry dash cams is how they can support driver safety.
There are cameras out there that offer external and internal recording functions. External recording is useful for avoiding fraudulent claims in accidents.
Internal recording can act as a deterrent to keep drivers safe from attacks, as well as ensuring they are working to safe standards.
The new Nextbase 380GW has both front and rear facing camera and is ideal for fleet and commercial vehicles.
Do you need a specialist to fit your commercial vehicle dash cams?
This much depends on two major factors. The first is how you're planning to have them installed.
Are you going to mount them to the dash with their own fixings or would you like to fully integrate them into your dash configuration?
With full integration comes more complexity, along with some tricky re-wiring work, so you might want the help of a pro.

The second is how many vehicles are you planning to add dash cams to?
If you have one or two vehicles and you're using the dash cam's own fixings, you might as well save some money and set them up yourself.
If you have a large number of commercial vehicles though, you'd be better advised to bring a professional in to do it for you. This will help you save so much time.
Are dash cams in commercial vehicles legal?
Here in the UK, using dash cams is absolutely fine and above board. There are a couple of things to note though:
You need to make sure your dashboard camera is fitted properly. If your dash cam obscures your vision of the road or infiltrates more than 40mm into the area your windscreen wipers clean, you could get fined. Also, in these circumstances, if you're trying to use footage as part of a court claim or defence, the evidence could be rendered inadmissible.
In commercial vehicles, your drivers and any passengers they carry must know that a dash cam is in operation. This is because their conversations (and actions if an interior camera is fitted) will be recorded. There could be heavy fines if any footage is used without explicit consent. You can find out more about ensuring your dash cam use is data protection compliant by reading one of our other recent articles here.