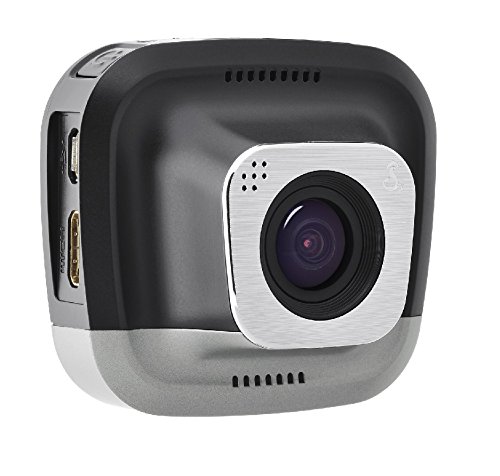 Cobra CDR 875 G Drive HD Dashboard Camera review
Cobra have been producing electrical devices for over 50 years, expanding across the US, Canada, and Europe. Small and compact, the Cobra CDR 875 G dash cam is a lot mightier than it looks.
The model below the CDR 875 G has fewer features but is slightly cheaper. How do the two models measure up? Is the extra cost worth it? Some of the most impressive features include a built-in GPS receiver, a G-sensor to detect collisions and even small bumps, speed camera and red light detection, as well as live police locations.
An 8GB microSD card is included in the box, which records about 90 minutes of driving. For some this won't be enough, but loop recording means older files will be recorded over when the card is full, unless the G-sensor has detected an incident – that footage will be protected.
If you want to download the footage onto a laptop, you can connect the dash cam with a USB cable. Bluetooth connectivity doesn't allow for wireless transfer to devices. The on-screen menu is also easy to interact with for those who find touchscreen a bit fiddly – larger buttons make it easier to stop and start recording.
So what's the spec like?
Full HD 1920x1080 resolution
A superior picture quality captures all the essential details on the road. Full HD is an essential dash cam feature and worth paying extra for. When you need to see registration plates, road signs, and scenarios up close; both you and your insurer will find this precise picture resolution very useful.
iRadar app and community
Connect your phone to the Cobra and you'll receive live alerts from the iRadar community. This includes live police locations and speed camera alerts, as well as speed limit notifications, all sent directly to your smartphone.
GPS enabled
Embed your exact location and time stamp onto your recordings. If you export your footage to a laptop, you can watch it alongside your GPS location and any motions detected by the G-sensor.
2.0" LCD screen
A simplified user interface makes it easier to press record, rather than forcing the user to look through menus and wrestle with a sensitive touch screen. On first use, setting up the language, date and time doesn't take long at all.
160 degree viewing angle
Capture the whole road in front of you, as well as peripheral vision. If a bump, collision or accident occurs, you don't have to rely on your memory. The Cobra will record everything in front of you.
Secure windscreen attachment
The last thing you want is a pothole knocking your dash cam off the windscreen. This windscreen mount is secure and stable, perfect for even the bumpiest of roads. Your recording won't be interrupted and the G-sensor won't be activated without good reason.
What's the Cobra CDR 875 G Drive HD like?
Particularly easy to set up, the Cobra is ideal for dash cam newbies to get going with. It can seem like a bit of effort to record every journey, but many users think it's worth it when they consider the possibility of not recording an accident that could affect their insurance.
What's the Crosstour CR700 like?
Some reviewers have found it difficult to use both their satnav and dash cam at the same time. With room to plug just one of them in, one device would have to be able to hold its charge while the other is connected. However, there are two lengths of leads available, meaning it's easy to connect the dash cam without obscuring your view of the road.
Users can also connect their phone to the dash cam, which will send alerts through the iRadar app. This is also the only way to benefit from the live police locations and
For those who rightly prefer their phone to be out of sight, or use it as a satnav while they're driving, this can be a bit of an inconvenience.
This dash cam has lots of benefits and clever features. Speed limit reminders are helpful when driving in a new area, it's sturdy and robust (even if you accidentally drop it), and easy to use even if you don't read the manual. If you do want to read it, it's only short and very simple to follow. The clip holding it to the windscreen can survive even the most uneven, pot hole-ridden road.
Should I buy a Cobra CDR 875 G Drive HD dash cam?
There's no case included, which makes storage and keeping the dash cam out of sight slightly difficult. Some have also found the camera to have a short lifespan, either not functioning entirely or showing faults after a few months. Some find the screen slightly distracting when they're driving, as it shows the direct recording of the road rather than a screensaver.
The Cobra dash cam is compact, lightweight, easy to set up, and starts immediately after being plugged in. The videos are clear and high quality, capturing tiny details and registration plates.