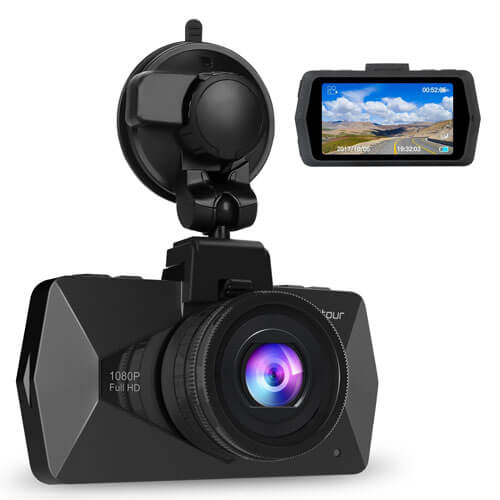 Crosstour CR500 Dashboard Camera review
Recording in full 1080p high definition, the Crosstour CR500 provides an almost unbeatable view of the road. Upgraded night vision captures detailed recordings in poor conditions, including registration plates at a distance.
The practical, functional features help the user record on demand with minimal effort.
Loop recording saves space, smart motion detection keeps an eye on your vehicle when you're not there, and the easy-to-use mount keeps the dash cam firmly attached to your windscreen, even during a collision.
So what's the spec like?
Improved night vision and HDR technology
In this model, wide dynamic range (WDR) is upgraded to high dynamic range (HDR). HDR restores natural colour when recording in night vision, improving conditions during low light.
Registration plates and small details are more visible, and the 170-degree wide-angle lens can capture 4 lanes of traffic at once.
​Smart gravity sensor
Any sudden collision or jolt will be detected immediately, automatically storing the footage and keeping it safe.
Every incident, no matter how minor, will be logged and saved ready for an insurance or legal claim.
Loop recording and instant playback
The CR500 records in a loop, automatically recording over unremarkable footage and saving any incidents recorded with the G-sensor.
Before transferring your footage to your phone or laptop, watch instant playback on the dash cam itself.
For any other incident, you can manually lock a file and prevent it from being rewritten.
Motion detection when parked
When your car is parked, any movement within 3 metres will kick-start the dash cam's record function.
Break-ins, vandalism, or even potential thieves, will be recorded.
If it's just a pedestrian walking past, recording will stop again after 10 seconds of no movement, saving battery life and memory card space.
What's the Crosstour CR500 like?
The Crosstour CR500 is a pretty safe bet. For the price, it has an impressive range of features and tough build quality.
Attach the dash cam to your windscreen using the suction cup and camera attachment. It will rotate so it's visible to both the driver and the passenger.
The USB cable can be plugged into the car charger manually, or hardwired with the help of a professional.
Hardwiring removes trailing wires, and is the preferable option for those who use their dash cam for every journey, long or short.
Should I buy the Crosstour CR500?
With its loop recording, wide-angle lens, and gravity sensor, the CR500 is a clever and affordable dash cam.
The difference between the CR700 and the CR500 is small but significant for some.
The CR700 is slightly more affordable and includes many similar features, but doesn't have upgraded night vision.
For drivers often out at night, this could be a significant deal breaker.