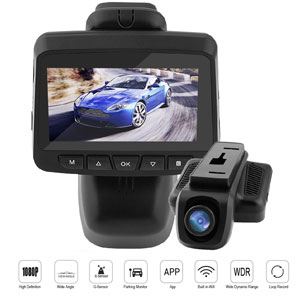 Ironpeas Dashboard Camera review
The Ironpeas Dashcam is one of the most affordable Dashboard cameras on the market. It has all of the features you would expect from a car dashcam and even offers full 1080p HD video recording.
Amazon have it on sale till the end of December, 2023 too. Check it out here
The list of features on this dashcam look to provide a good level camera but at a price that you can't fail to think, I'll just buy it and give it a try.
Recording at 30 frames per second and able to record an 150° viewing angle of the road ahead.
So what's the spec like?
Powerful processing unit
The unit is built on the powerful Novatek NT96658 CPU and equipped with 6 layers of glass.
Sony Exmor Image Sensor
Along with the 6 layers of glass making up the lense the Ironpeas dashcam boasts a Sony image sensor unit and together produce stunning results for a unit costing under £50.
An image resolution of 1920x1080P with a frame rate of 30 fps is really good and would go toe to toe with a number of the bigger brands.
Loop Recording
Loop recording is a must for any dashboard camera, both domestic or commercial it needs to be able to keep recording.
Allowing for a memory card of up to 64gb (our recommended Memory card is the Kingston 64gb here) means there's plenty of room for recording all that is required.
Parking Monitor an G-Sensor
This function allows you to keep watch of you car even when you're not in it. It will also record and save the video footage if someone hits your car in a car park.
You don't need to worry about remembering to hit the save button in the event of an accident either. The G-Sensor is designed to pick up on any impacts while driving and will lock the footage for you to go back to when needed.
Built in WiFi
The Ironpeas Dashboard Camera comes with in-built WiFi. This gives you easy control and instant access to the dashcams videos. It's really easy to gain access to the footage caught on the camera.
In case of an accident this could be invaluable for calming the heated situation down and make sure everyone is aware you have the dashcam to prove who was at fault.
And, if you're one of the thousands who like to share your videos on Youtube you can do that really easily too!
Should I buy an Ironpeas Dashboard Camera?
If you're in the market for a budget entry level dashcam then this is the right one for you. If you already have some experience with a dashboard camera and know the benefits of having a camera installed in your vehicle can bring then you might want to look at a more advanced model of camera.
The Nextbase 612GW is the unit we would recommend if you're looking for one of the best on the market.
All in all this camera packs a lot into the small price tag. It's definitely a unit to use day to day and keep your family safe on those trips.